The 2019 OHNY Weekend Event Guide Cover
–
Each year, OHNY works with PS New York, the designers for all of OHNY's graphics, to create a special image for the cover of the OHNY Weekend Event Guide that connects OHNY with the living city.
For the 2019 cover, OHNY chose to shoot the photo at the Brooklyn Navy Yard, a featured site this year for the incredible public access it makes possible just for OHNY Weekend (more than 50 Yard tenants will be open for tours!). OHNY commissioned SITU–an architecture practice based at the Yard that uses design, research and fabrication for creative and social impact–to create a unique installation to serve as the cover artwork. SITU's design is intended to reflect the creative and experimental character of the Brooklyn Navy Yard. Crafted from a single sheet of raw perforated aluminum, the sign was folded by hand into a self-structured shape so that it could stand on its own and be easily moveable. Since the stencil-style lettering for the OHNY Weekend logo was to be milled on a CNC router, the challenge was to preserve legibility across the bent angles. To accomplish this, SITU digitally warped the lettering to correct for any distortion on the final form; this means that the Weekend logo only looks "right" from one spot about 15 feet away. The perforations provide a degree of translucency, dimensionality and texture that otherwise wouldn't be present in standard sheet metal.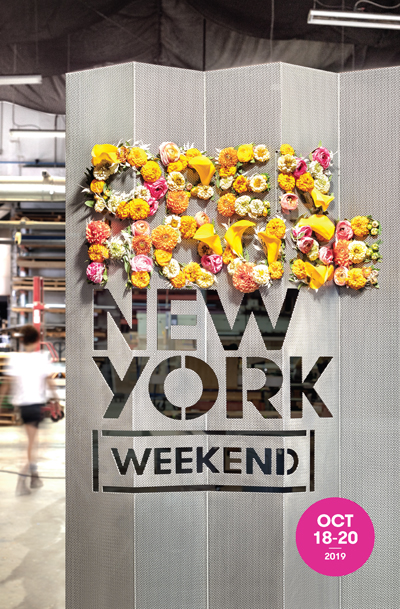 Stick Botanicals then stepped in to design an arrangement of fresh flowers and plant materials that would create an organic and colorful juxtaposition with the industrial character of the Yard. Stick used a mix of gold zinnias, white zinnias, orange dahlias, gold ranunculus, pink ranunculus , gold calla lily, and parvifolia eucalyptus, each chosen for how it could hold up in the structure and what it could offer in terms of texture and vibrancy. Colors were selected to create a warm fall pallet and to pop against the metal frame.
The entire piece was designed and fabricated over the course of about a week, with flower installation taking almost 6 hours the day of the photo shoot. OHNY and PS New York then worked with architectural photographer Christopher Payne to shoot the cover photo in situ at SITU (we couldn't resist).
Want to learn more about where the 2019 cover was designed and fabricated? Visit SITU and Brooklyn Navy Yard during OHNY Weekend. SITU will be offering tours of their fabrication shop on October 18 as part of Factory Friday, and the Brooklyn Navy Yard will open their doors to the public on October 19!