Gallery: Madison Square Boys & Girls Club
OHNY Previews: Madison Square Boys & Girls Club – Photo: Ben Helmer
Madison Square Boys & Girls Club first opened in 1884, in a vacant store on First Avenue and 37th Street in Manhattan. Today, 135 years since its inception, Madison has a network of five facilities across New York City, rooted in neighborhoods where its resources are needed most. The Pinkerton Clubhouse in Upper Harlem – the organization's newest and largest location – will serve as the headquarters and host more than 1,500 young people, ages 6 to 18 beginning this summer.
On May 1, Open House New York visited Pinkerton Clubhouse to learn how the building – through its thoughtful design and program – will provide a safe and empowering third place for youth in the neighborhood. Led by Rob Rogers and Betsy Stoel, Rogers Partners; and Tim McChristian, Executive Director of Madison Square Boys & Girls Club, the preview took visitors into a series of dynamic, kid-friendly spaces designed for study, play, and creative expression.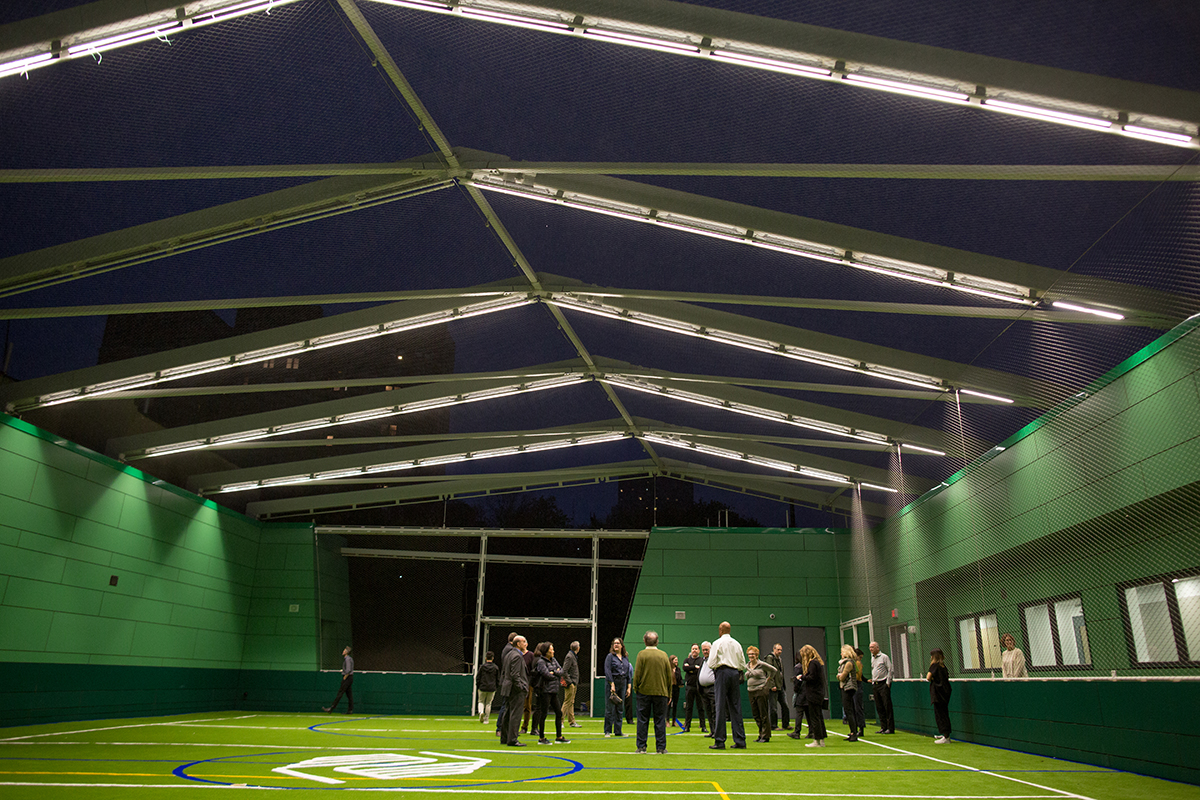 "This was a project that makes you remember why you became an architect."- Rob Rogers
Highlights
A central stair that snakes and skews as it rises through the building. Envisioned as a vertical play space, this architectural element is meant to peak young people's curiosity and excitement about the experiences that await on the upper levels.
On its north face, the four story building features full length glazing to optimize the amount of light filtering into the interior. At night, orange accent walls and ceilings throughout the clubhouse set it aglow from the inside-out.
The overall design directly supports Madison's three areas of focus: academic success, good citizenship, and healthy lives. Each floor contains a quiet homework room and a social space equipped with games and activities to suit each age group.
Community dining rooms provide every kid with a hot meal, every day for $5 per year.
Flexible activity spaces on each floor are complemented by more specialized classrooms that have been designed with specific uses in mind, such as dance classes, ceramics, and a full music recording studio facility.
Pinkerton Clubhouse will soon have a Director of the Future on staff, whose role will be to ensure every kid has a plan for a successful future.
The gym, which includes a rock-climbing wall and overlooks Jackie Robinson Park, also has a view up into the teen skybox – an aspirational zone reserved for those who stay involved during their High School years.
Open House ended the preview tour on the roof, which is activated by an open-air sports pitch that will accommodate a variety of outdoor recreation options.